WhatsApp Cloud Channel Media Issue in Self Hosted Environment
TLDR luissantosdev encountered a problem with WhatsApp Cloud channel using local storage. pranavrajs recommended using cloud storage. After setup, issue was resolved.
Powered by Struct AI
Dec 13, 2022 (12 months ago)
luissantosdev

WhatsApp cloud channel does not receive or send media in installation Self Hosted / Caprover / Digital Ocean.

What can it be?
Installation Environment ( Self hosted ) : ( Ubuntu / Docker / Caprover ).
Chatwoot v2.11.0, problem persists since primary version installed.

The problem only occurs on the WhatsApp Cloud channel, I have another inbox with the Twillio channel and it works normally on the same installation.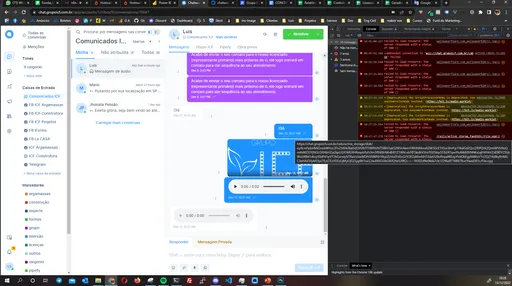 Dec 14, 2022 (12 months ago)
pranavrajs

Have you connected a cloud storage?
luissantosdev

pranavrajs

Yes, For caprover local storage would not be persistent. You need to configure a cloud storage
08:02
This is mostly probably why you are seeing this problem
Jan 03, 2023 (11 months ago)
luissantosdev

Wonderful, that was it. I set up direct storage on Digital Ocean and it works now. But that means that in the documentation for installing with caprover there should be something mentioning not supporting local storage.