WhatsApp Audio Format Issue and Error 500
TLDR Gustavo83 was facing an issue with WhatsApp audio recording format and error 500 after an update. sojan_official recommended creating a GitHub issue, while giquieu clarified audio codec requirements. Gustavo83 resolved the issue using console and chatgpt.
Powered by Struct AI
Apr 13, 2023 (8 months ago)
Gustavo83

hi... i've a problem in audio whatsapp send. i believe the problem is the audio recording format. but i don't know howto chage wav format to opus

Apr 24, 2023 (7 months ago)
sojan_official

which WhatsApp provider are you using ?
May 02, 2023 (7 months ago)
Gustavo83

03:41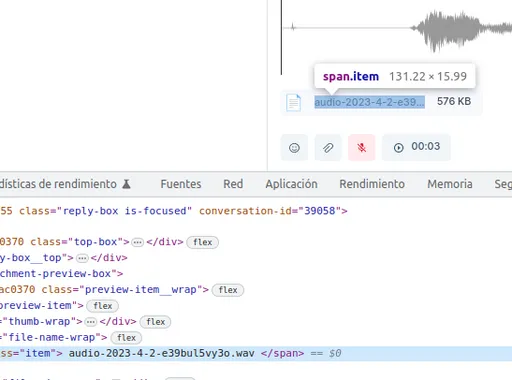 03:43
I see that the audio is recorded in .wav but I read that it has to be in opus format. and I don't know how to make it record in that other format
May 03, 2023 (7 months ago)
sojan_official

Could you log a GitHub issue for the same. we will have the team investigate this further.
May 09, 2023 (7 months ago)
Gustavo83

May 16, 2023 (7 months ago)
giquieu

Gustavo83 Hello, all WhatsApp channels record with .ogg. Are you still facing this situation?
Gustavo83

hi giquieu t.u. 4 response... i don't know howto chage the record codec
11:26
hi guys... i update chatwoot 2.17 and when i want to view my whatsapp chats i reveive error 500
11:27

11:27
in the server log i view this:
ActionView::Template::Error (undefined method `additional_attributes' for nil:NilClass):
1: json.additional_attributes resource.additional_attributes
2: json.availability_status resource.availability_status
3: json.email resource.email
4: json.id resource.id
11:49
ok the problem is 4 one or more chats bad formated
11:49
but... some one know howto search on chatwoot database the conversations asignated to an agent and delete it?
May 17, 2023 (6 months ago)
Gustavo83

done! i user the console and chatgtp 4 help