Troubleshooting Facebook App Permissions for Self-Hosted Docker
TLDR OTP-IT struggled with Facebook permissions for their application. d3x73rz1n offered to help assist with the issue in private messages and via a Telegram channel.
Powered by Struct AI
Oct 03, 2023 (2 months ago)
OTP-IT

Self hosted:Docker
Hello everyone, I encountered some problems. I tried to refer to the content of this file:
https://www.chatwoot.com/docs/self-hosted/configuration/features/integrations/facebook-channel-setup#add-
facebook-login
The content of the above file is our application settings
Obtain advanced access to the required permissions mentioned below for your Facebook app:
- pages_messaging
- Business Asset User Profile Access
- pages_show_list
- pages_manage_metadata
However, we followed the guidelines in the document and submitted the entire process, as well as the video requested by Facebook, and we received a rejection from Facebook.
Has anyone passed this verification normally? Or give me some guidance , many thanks 🙂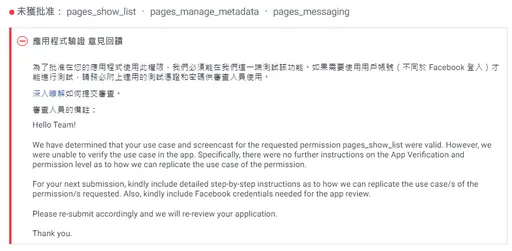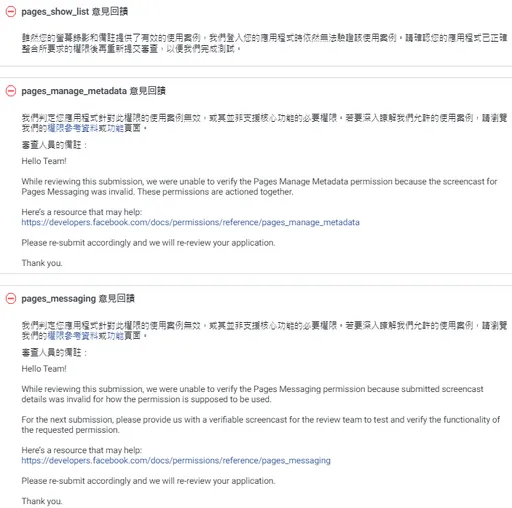 d3x73rz1n

Hi! We can help you for this. Please let me know if you need consultancy for this service. In PM.
Oct 04, 2023 (1 month ago)
d3x73rz1n

Yes, I can. I will send you a PM to discuss the scope of this project.
Oct 06, 2023 (1 month ago)
d3x73rz1n

Please, see in your Direct Messages.

Nov 20, 2023 (1 week ago)
_atx_

OTP-IT were you able to request and obtain the permissions ?
Nov 21, 2023 (1 week ago)
d3x73rz1n

Please refer to this in Telegram channel created for support.
Nov 22, 2023 (6 days ago)
2k2j2

d3x73rz1n Hi can you also let me know about this?