Solving Connection Issue with Chatwoot & Redis
TLDR .laureana experienced problems with Chatwoot and Redis. v_shnu helped diagnose and resolve port conflicts and completed migrations.
Powered by Struct AI
Jul 06, 2023 (5 months ago)
.laureana

do you know how to fix this?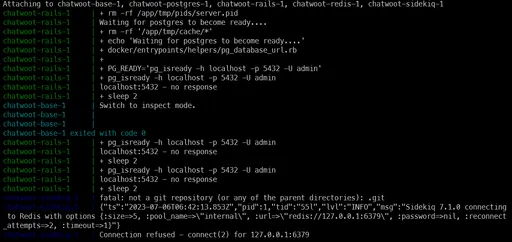 Needle

Thread automatically created by .laureana in
#920670566015451176
v_shnu

looks like chatwoot is not able to connect to redis
07:26
Which guide are you following? Have you setup postgres/redis passwords?
.laureana


v_shnu

Looks like some other services are using the port 5432 needed by Postgres. Could you check if anything else is running on 5432 on your machine?
Jul 07, 2023 (5 months ago)
v_shnu

could you share the ouptut of

netstat -ntlp | grep 5432
.laureana

Hi its all good now. but i have a new prob can you look into this?

v_shnu

09:40
try bringing up the app online