Login Issues on Chatwoot Mobile App
TLDR sen.py and account-quit encounter login issues. muhsin_k inquires about version, and sen.py confirms using the latest mobile app and free Chatwoot service.
Powered by Struct AI
Nov 20, 2022 (13 months ago)
sen.py

Not able to login to this account and this message appears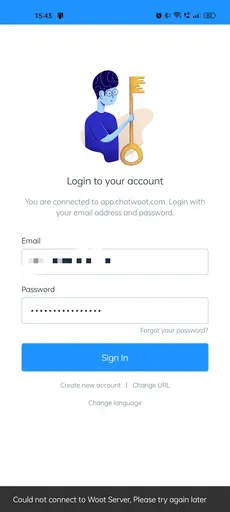 account-quit

Nov 22, 2022 (13 months ago)
v_shnu

Are you using a self-hosted Chatwoot instance? or using Chatwoot cloud?
Nov 29, 2022 (13 months ago)
sen.py

No the app.chatwoot.com itself
v_shnu

muhsin_k
Is it happening all the time?. Please share your version as well.
Nov 30, 2022 (12 months ago)
sen.py

This is the latest version of the mobile app, and free version of Chatwoot service from app.chatwoot.com