Issue with Facebook Login for Approved App
TLDR maobueno reported issues of Facebook Login unavailability to his app, despite it being authorised. tejaswini suggested checking and using the Facebook app version and account.
Powered by Struct AI
May 17, 2022 (20 months ago)
maobueno

Hello

My app on facebook has already been approved but when I go to create the channel and log in with facebook this message appears:

" Feature not available. Facebook login is currently unavailable as we are updating other app details. Please try again later."

Does anyone know why I get this message or what else should I do after facebook approves my app?

Thank you very much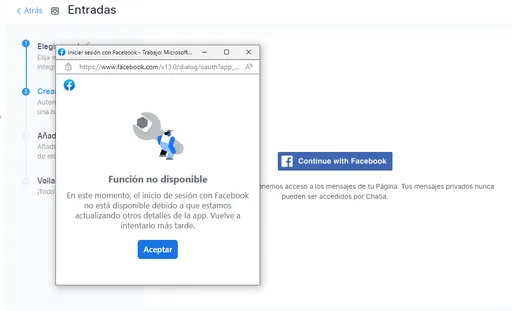 May 24, 2022 (19 months ago)
tejaswini

Have you enabled login sdk with your app domain?

maobueno

Yes, I have enabled login sdk with my app domain
03:12
tejaswini I am trying to create a facebook inbox with another facebook profile
May 25, 2022 (19 months ago)
tejaswini

check the version of facebook app..if you are able to create the inbox with one account then you should be able to do it with another too
05:10
Can you try to create the inbox with facebook app admin account?