Issue with Chatwoot Agent Assignment
TLDR lemon3__ was having issues with offline agent assignment in Chatwoot. alejandrog7200 offered a temporary fix, with sojan_official indicating work on a reassignment module.
Powered by Struct AI
Oct 26, 2023 (1 month ago)
lemon3__

To be precise, when client contacts and a chat opens, it is automatically assigned to a random agent who is online. Afterwards if the conversation is not resolved, and agent goes offline, when the client sends a new message in the same conversation it stays with the offline agent instead of being reassigned to a random agent who is online.

I chatted with Chatwoot support and they told me this could be solved by snoozing the conversation until next reply. I tried that as well but it simply doesn't work.

Any assistance would be really helpful.
Oct 30, 2023 (1 month ago)
lemon3__

#1006470116432695368
Can someone assist here?
Nov 02, 2023 (3 weeks ago)
alejandrog7200

Hi lemon3__ U can make an automation rule to assign agent to none after a conversation resolution.
12:07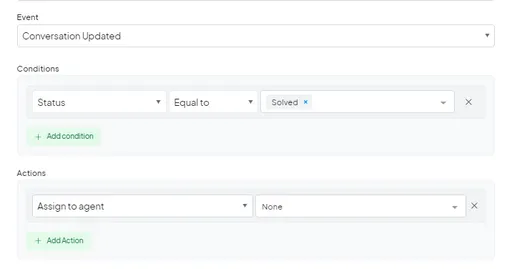 lemon3__

Hey alejandrog7200 , thanks for the answer. This is not the solution I was going for, but it's close enough. Thank you!
sojan_official

lemon3__ We are working on an agent reassignment module as well. that should fix this
Nov 03, 2023 (3 weeks ago)
lemon3__

hey sojan_official do you have an ETA for this?