Facebook Integration Issue in Self-Hosted, Docker Environment
TLDR florstone is encountering a problem with Facebook integration in a self-hosted setup, jackgun05 questioned if all settings had been configured correctly within the Facebook developer account.
Powered by Struct AI
Oct 17, 2023 (1 month ago)
florstone

Hello !
I have an integration problem with Facebook
When creating the Facebook channel, when clicking on "continue with Facebook" I got the following error:
Sorry, something went wrong.
We're working on getting this fixed as soon as we can.
Installation type: Self hosted
Installation env: Docker
Have any of you already had this problem or know how to solve it?
I specify that I followed this guide:
https://www.chatwoot.com/docs/self-hosted/configuration/features/integrations/facebook-channel-setup
Thank you in advance,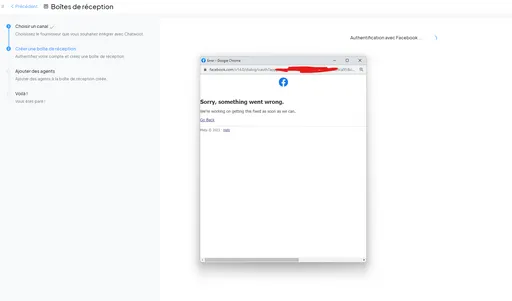 jackgun05

have you set all things in facebook app(inside developer account) ?