Difficulties Sending SMTP with Multiple Email Inboxes
TLDR ppppppppp3265 has issues with SMTP email sending despite successful IMAP setup for two inboxes. sojan_official shares a potential Microsoft-related problem and a respective ongoing fix. g1i7ch also experiences similar SMTP error.
Powered by Struct AI
Mar 28, 2023 (8 months ago)
ppppppppp3265

1) I already set .env and the email from the system works perfectly (like forget password and registration)

2) I try to add 2 email inbox (one is the same email as .env , the other one is completely different email (hotmail))

2.1) both can recieve IMAP properly I see all incoming email, perfect

2.2) both cannot send SMTP, even mirroring the one in .env, I can't get email inbox to send email properly

(I don't want to email conversation continuity, I just need the simple IMAP and SMTP setup)

Thanks...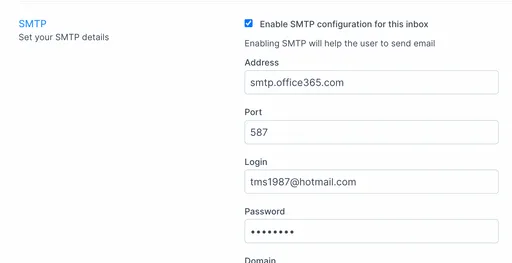 06:17
I am referring to this SMTP inbox...

the one on .env works perfectly, but this inbox doesn't send outgoing email at all.
06:23
Also no error can be found on Sidekiq
Mar 29, 2023 (8 months ago)
ppppppppp3265


Apr 02, 2023 (8 months ago)
sojan_official

Apr 04, 2023 (8 months ago)
ppppppppp3265

Apr 06, 2023 (8 months ago)
g1i7ch

same issue, any updates on this?
02:12
Apr 06 07:21:26 staffpanel chatwoot-worker.1[12560]: E, [2023-04-06T07:21:26.378085 #12560] ERROR -- : [ActiveJob] [ActionMailer::MailDeliveryJob] [89a8e053-6a86-4074-808f-c3a2f2daa411] Exception: Net::SMTPSyntaxError