Configuring Email and Push Notifications on Self Hosted Solution
TLDR hariuk inquired about configuring email and push notifications on self-hosted solution. v_shnu provided instructions and suggested testing out the features to ensure correct configuration.
Powered by Struct AI
Apr 13, 2022 (21 months ago)
hariuk

How to configure the Email and Push notifications on Self Hosted solution?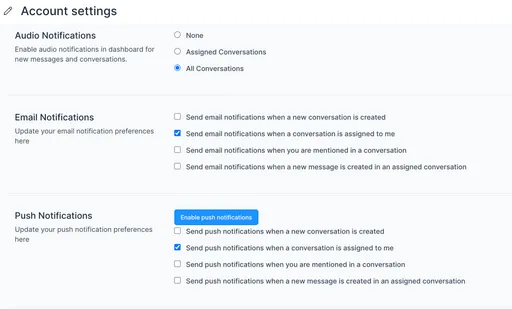 Apr 14, 2022 (21 months ago)
v_shnu

Email and Push Notifcations
12:16
For push notifications,
!. Browser notifications - Choose the options you want and click on enable notifications.
2. Mobile - Install the offical Chatwoot mobile apps(android/iOS) and when logging in provide your self-hosted server url.
Apr 16, 2022 (21 months ago)
hariuk

v_shnu thanks - is there away to test if configuration has done correctly? or via logs?
Apr 19, 2022 (21 months ago)
hariuk

v_shnu fayaz need your assistance on above
v_shnu

You would need to make the changes and try out the features.
06:53
No other way to verify notifcation
06:54
there will be log but yeah easier approach would be to just try out the features