Configuring a Facebook Inbox Channel in Chatwoot
TLDR giocn asked for help in setting up a Facebook inbox channel. v_shnu shared a guide for setup, while sojan_official clarified that one Facebook app can handle all Chatwoot accounts.
Powered by Struct AI
Jun 15, 2023 (5 months ago)
giocn

Hi guys, how are you?

I'm trying to configure a facebook inbox channel but i'm having trouble. Every time i try to add the channel i fall into an infinite loading page:


Anyone with the same problem?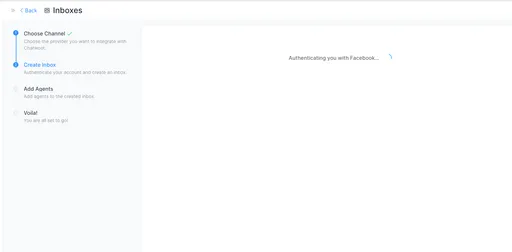 Jun 16, 2023 (5 months ago)
v_shnu

Did you follow the facebook setup guide?
09:49
Have you configured the facebooke env variables?
giocn

Thank you v_shnu . I was wondering here, does it make sense to setup a unique FB Account to the whole workspace? It shouldn't be 1 FB Variable per Account or per FB Inbox?
Jun 19, 2023 (5 months ago)
sojan_official

you only need one Facebook app for all the accounts in a chatwoot installation
Jun 20, 2023 (5 months ago)
giocn