Chatwoot Emails Failing SPF Check and Going to Spam
TLDR blrog reported that Chatwoot emails are going to spam due to failing SPF checks. v_shnu asked for more details but the issue remains unresolved.
Powered by Struct AI
May 20, 2023 (6 months ago)
blrog

Using regular Chatwoot (not self-hosted), emails sent to enable conversation continuity are going to spam. Looking at the headers, it looks like they're failing the SPF check. DKIM and DMARC are passing.
Is there anything on the CW side that can be done to fix the spam detection? These emails are coming from
[email protected]
.
May 22, 2023 (6 months ago)
sojan_official

v_shnu

blrog Which email provider/client are you using? (gmail/outlook/others)
blrog

v_shnu We're using a Google Workspace account to send/receive these emails (so gmail)
May 25, 2023 (6 months ago)
v_shnu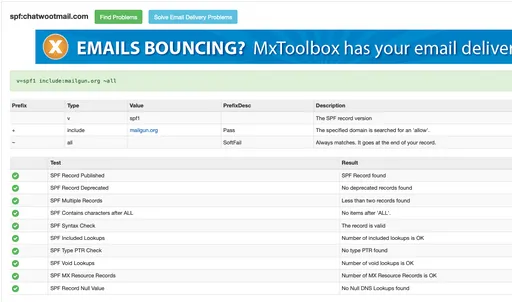 09:51
The spf records seem to be in place. Could you share more details on the spf check failing part?